Your Campbell River salmon fishing guide & Tyee fishing specialist.
40 years experience in the Campbell River and Quadra Island area.
Come enjoy this unique and sheltered place in the Inside Passage.
Treat yourself, friends, family, or larger groups with several boats.
We keep the sport in sport fishing, for your enjoyment.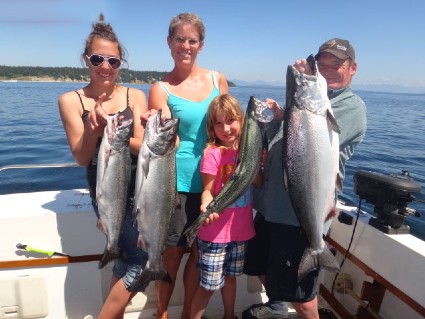 We offer Campbell River B.C. fishing charters that suit you. If you are focused on catching fish, so are we. If you would also like to see the sights, see wildlife, or experience the backcountry, we have a trip for you and we see a lot on our day trips…….
Our Certified Boat
You'll love the Grady White Gulfstream, a prestigious brand that is popular and well-proven by top guides. Wide, stable and roomy for fishing. Certified by Transport Canada . Come for a ride and a fish!
About Brightfish
Hi, I'm Rick Hackinen. I've been a Campbell River fishing Guide for over 40 years and developed experience in both fishing and client relations. It would be my absolute pleasure to introduce you to a wonderful , relaxing fishing experience…….
Where We Fish
We are located in the middle of the sheltered East side of Vancouver Island.  The Campbell  River fishing area is a unique and special location for home base. Campbell River and Quadra Island are situated ………