About Brightfish – 40 years experience as a Campbell River Salmon Fishing Guide
Experience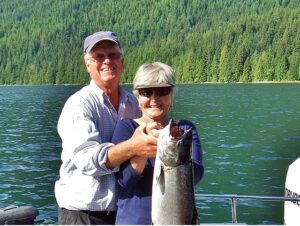 Hi, I'm Rick Hackinen. I've been a salmon fishing guide in the Campbell River and Quadra Island area for 40 years. I have developed experience in both fishing and client relations.
I've guided for numerous fishing lodges, hotels and B+Bs and operated independently for my clients. My guests have ranged though all sorts and income levels from Fortune 500 people to regular folks who make a once in a lifetime trip. Ages ago, I was a senior guide at the Peterson's April Point Resort during the 1980s, which was a golden age of guide development.  Yes, I have taken out VIP's, captains of industry, television, sports figures, and even an astronaut, as have many of my peers and fellow guides. I would love to be your Campbell River Salmon fishing Charter of choice.  Everybody gets the same courteous treatment, everyone is a VIP. Brightfish is also a connection to a community of fellow career guides and service providers. With support of our contacts, we can say "no job too big or too small ". We can provide excellent and memorable experiences for you, your friends, your family, or your business relationship building.
Involvement and qualifications
Chair of the Campbell River and District Fishing Guides Association
Sport Fishing Advisory Committee (SFAC), rep for guides in the Campbell River area
Campbell River Local Marine Advisory Council (LMAC)
Sport Fishing Institute of British Columbia, (SFI) member
Certified Tidal Angling Guide (CTAG)
Transport Canada Certified for Small Vessel Boat Operators Certificate (SVOP)
Marine First Aid
Marine Radio Certificate and Marine Emergency Duties Certificate
Properly Insured.
Member of Avid Anglers, assisting in salmon research with the fish we catch or release.
And all the guides I work with, or recommend, are Transport Canada certified and insured.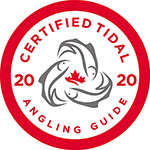 Commitment
This is my life. I am a dedicated fishing guide and I get fulfillment from sharing these experiences with people. I provide a quality boat and equipment. In the off season I work as a carpenter, which makes the year go round. There is a connection I hope you can get an inkling of, beyond reason, an intuition that comes from interacting with the natural world, which I hope to express and share. It would be an honour to be your Campbell River area fishing guide. You can feel a distinction between our modern learning and our deep instinctive appreciation of watching for the signs, searching, waiting in alertness; that's fishing.
I still get a kick when the rod bounces and you go for it.
At your service,
Rick