Spring and Early Summer
Early season fishing is in the Inlets and the Mainland side of our area, where the narrow ocean channels weave into the mountains. A full day is needed for travel, which is a lovely scenic cruise. These Chinooks are growing aggressive feeders with some much larger fish in the mix.
Plan for these trips April 1 to July 14.
Salmon research trips are also available for shorter trips in the April 1 to July 14 period.
We will get back to you ASAP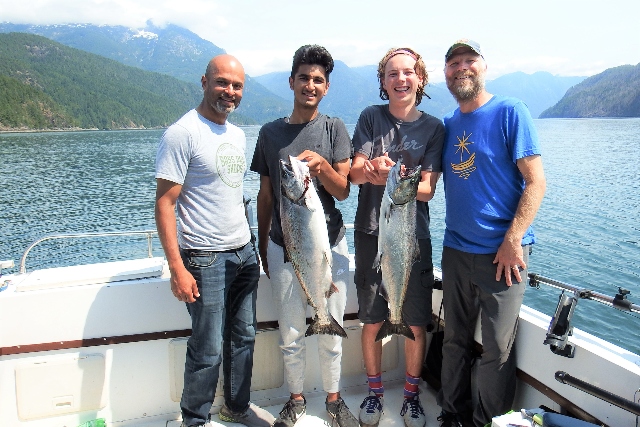 Summer
July and August are always the popular times for family vacations. After July 15 we have the nearby waters of Georgia Strait to fish for Chinooks and also the migration corridors to the north.
Keep in mind that Aug 5 to Sept 15 is the time for rowboat fishing in the grand Tyee Club tradition, when these special fish come home to linger near shore before going into the Campbell River.
See "Tyee Fishing ".
We anticipate increased chinook limits beginning September 1 and lasting until April , based on continuing the regulations of recent years .
Fall
To add to the Chinooks, in late August, through September, and into October, mature Coho salmon, often called "Northerns" are coming in from the open ocean. Most of these are wild Cohos and these will need to be released for conservation reasons. Some will be hatchery marked fish that can be kept, 2 per day. We expect regulations to allow one wild coho to be kept from September 15 to 30.
Chum salmon are starting to come in late September and peak in mid October. Chums are great fighters, numerous, good sized, usually from 5 to 15 pounds, and they are great smoked fish.
Chums are a bit of a secret because most tourists have finished their annual vacation migration when the chum salmon are just starting to migrate. Late September and through October is chum time.
Winter and Early Spring
By November the mature Chinooks for the year have gone to their respective rivers. But in Georgia Strait the younger Chinooks are feeding and growing like teenagers. November through March 31 is productive for these aggressively feeding Chinook salmon. Many are going to be just around the keepable minimum size (62 cm, about 25 inches), some will be larger up to 15 pounds. We often fish close by, on the south side of Campbell River, weather permitting.